Courses and Classes
The Fire in the Mountain Folk School Presents….
Flat Foot & Square Dance Classes with Cut A Shine.
We invite you to attend a weekly Monday course in Flat Foot and Square Dancing at the Scolt Head Pub in Dalston, Hackney. The course is taught by Alice Cade and Jo Bowis, with live music provided by Cut A Shine.
We start with a free taster session on Monday 26th February, and follow this up with 2 short terms of 4 classes each. The first term runs every Monday in from the 5th, and the second term runs 9th - 30th April. We will finish the course with a party and performance on the early May Bank Holiday, the 7th of May.
Classes are £10 per session waged or £7 concessions, £35 for the whole term, or £60 for both terms. Our first session on 26th February is free, so why not head down and have a go.
Every week we will dance 7pm – 8:30pm to a live band, followed by a music session in the bar for all ages and abilities.
Flat Foot Dancing is a mountain style and predecessor of tap dancing and is done solo to accompany tunes on the fiddle and banjo. Square Dance is a social form of dance akin to English Country Dancing and Scottish Ceilidh that developed in the Appalachian Mountains. It is generally done in groups of 8 people.
This course aims to combine flat footing and Square Dancing, with the aim to develop a performance piece of dance. We may even get the chance to show off some of our moves at a Cut A Shine dance!
There is no dress code, but it is recommended you bring some hard soled shoes.
in depth film here - Talking Feet (Mike Seeger)
Some Photos here: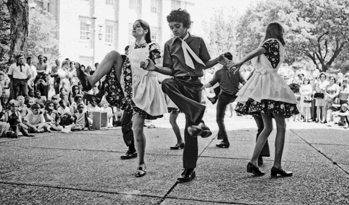 Some Films and clips here from Norh Carolina, filmed in the 90s...
But then! Combining our Flatfoot moves with Traditional Square Dance forms, we end up with some pretty impressive exhibition stuff... like this video...